Restorations Pt 2
A GATES CC-1 TV console
Heidi and Christopher Roach had owned this console for about 8 years when they decided that it need to have a new home with someone who could bring it back. I am honored that they chose me.
What makes this console so special is the electronics that GATES used. This was their first modular console, and they used the best parts available to build some pretty impressive modules.
The PRE-4 microphone preamplifier used a pair of 5879 low noise tubes for a 40db gain structure. bringing in the signal was a Gates special design (copied from the UTC LS-10X) input transformer. I have seen the Gates in house drawings about transformers designarting "similar to - UTC LS10X" in writing. Interestingly, this transformer and it's output twin, were twice the size of the next generation of Gates equipment, indicating in my opinion, more iron, more sheilding and more quality..
The separate modules were available to order in the GATES catalogs from the early 1950's, and when the outstanding PRE 4 preamplifer was combined with the PGM 4 Program amplifier, the old timers tell me it was a great sound.
This console could be traced back to a station in Pennsylvania. It had been in dry storage for years. There were quite a few scratches, and more problems under the meters, but I will get to that later. Really to be 50+ years old, it looked pretty good.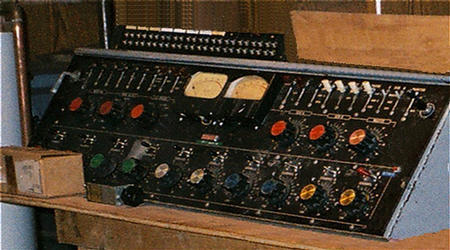 The years and engineers had taken their toll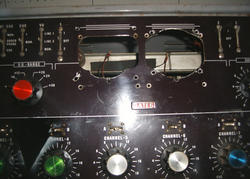 In that time period, (1950's) the factory used a photo etching process, that made the markings pretty much lifetime. It actually meant wearing the METAL off to get rid of the label. The only place that had happened was around the main microphone pot, but there were several scratches and of course a number of non factory holes. These around the V U meter holes were filled with auto body filler, as were others.
I love the smell of spray paint in the mornin'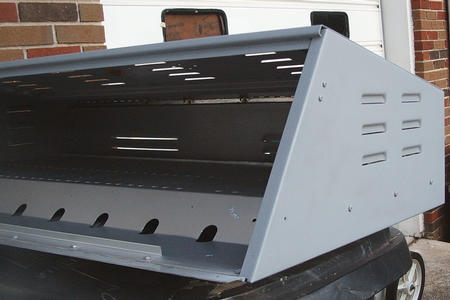 This is a lot like auto body work. I filled the extra holes, scratches, etc with Bondo and finishing putty to get it smooth, then sanded it several times. I applied a gray primer, then put a clear coat on top of that. It turns out to be a dead ringer for the original shade from 1954 Quincy!
Front panel gets some detail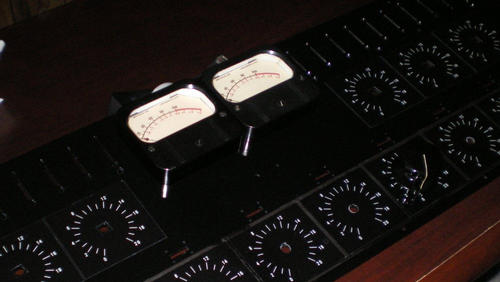 I knew this was gonna be the main effort, as far as apperance. After spending several months (really) trying to find someone in my area who could make the labels I need, I found Specialty Stamp.com on Ebay. It was almost too easy. I sent him a jpeg of the graphic, and he sent me back 25 volume control plates, ready to install.
The front panel was filled, sanded, and painted a gloss black and extra clear coat added. I am outlining each volume plate with a silver striping tape that is about 1/16th" wide. While not exactly the stock look, it still retains the "flavor" of what would have come from the plant back then.
The front panel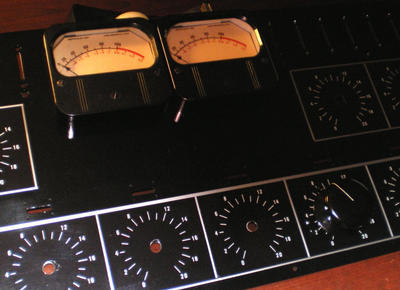 Check out those fresh twin WESTON meters
Before

I may change this again, I want to capture the feel of the original, but make it something I can do and maintain.
NEXT?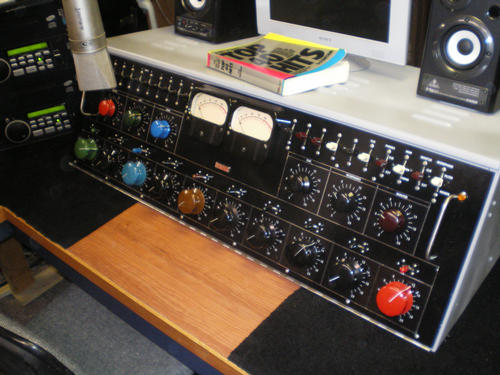 As you can see, I have the pots installed, the lettering almost done, and I could not resist putting it in the shell for a picture. Now I have to complete the front panel wiring, and get those wonderful amps back in it.
This console now resides up north. It is the production console for WYSL, in Avon New York and the owner Robert C. Savage loves it!